0
0
Read Time:
5 Minute, 39 Second
09:15
Gordon Brown says 'thousands will die' because G7 vaccine commitments do not go far enough
Gordon Brown, the former Labour prime minister, has told Sky's Trevor Phillips on Sunday that thousands of people will die because the G7 commitments on vaccines do not go far enough. These are from the Sun's Kate Ferguson.
09:03
Raab suggests it was 'offensive' for Macron to suggest Northern Ireland not full part of UK
Q: Is it right that President Macron told the PM that Northern Ireland was not part of the UK?
Raab says he will not "spill the beans" on what was said at a private meeting yesterday.
But he effectively confirms the reports, saying it is not just one person. He says senior EU figures have been talking about Northern Ireland as if is different from the rest of the UK. He goes on:



That is not only offensive, it has real world effects in the communities in Northern Ireland, creates great concern, creates great consternation. But also, could you imagine if we talked about Catalonia, the Flemish part of Belgium, one of the lander in Germany, northern Italy, Corsica in France as different countries? We need a bit of respect here, and also, frankly, an appreciation of the situation for all communities in Northern Ireland.
At their bilateral yesterday, in a converastion about the Northern Ireland protocol, Boris Johnson reportedly told Emmanuel Macron: "How would you like it if the French courts stopped you moving Toulouse sausages to Paris?" Macron reportedly replied that was "not a good comparison because Paris and Toulouse are part of the same country".
This has been reported as Macron saying Northern Ireland was not part of the UK, although, according to the Sunday Times, "a source in the French delegation said that Macron was well aware that Northern Ireland was part of the United Kingdom". Macron was making the point that the UK, which comprises four nations, is not the same as a unitary state like France, the source told the Sunday Times.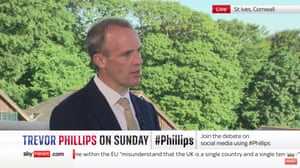 08:36
Raab says G7 leaders have committed to supply one billion vaccine doses to poorer countries over next year
Trevor Phillips is now interviewing Dominic Raab, the UK foreign secretary, from the G7 in summit on Sky News. Asked what the summit had achieved, Raab said there was now an agreement from G7 leaders to supply one billion doses of vaccine to poorer countries over the next year.
08:25
David Attenborough tells leaders climate decisions now are 'most important in human history'
Good morning. It is the final day of the G7 summit at Carbis Bay in Cornwall and overnight Downing Street has put out a statement highlighting two new initiatives.
The G7 is adopting a "Build Back Better for the World" initiative. No 10 says:



G7 leaders are expected to agree plans today (Sunday) to transform the financing of infrastructure projects in developing countries, part of a raft of measures at the Summit to address the climate crisis and protect nature.

The 'Build Back Better for the World' plan will bring together G7 countries under the UK's presidency to develop an offer for high quality financing for vital infrastructure, from railways in Africa to wind farms in Asia.

The new approach is intended to give developing countries access to more, better and faster finance, while accelerating the global shift to renewable energy and sustainable technology. The Government will build on this with other countries ahead of the COP26 Summit in November.
This is another example of Boris Johnson aligning G7 goals with a Tory election slogan, but perhaps his fellow G7 leaders do not mind. This fund is being seen as an alternative to China's Belt and Road initiative, its highly ambitious plan to use infrastructure finance to extend Chinese influence, especially in Asia and Africa, and "Build Back Better for the World" has strong US support.
The UK is launching a £500m Blue Planet Fund. No 10 says:



The prime minister has also launched the UK's Blue Planet Fund from the G7 Summit's ocean-side setting in Cornwall. The £500m fund will support countries including Ghana, Indonesia and Pacific island states to tackle unsustainable fishing, protect and restore coastal ecosystems like mangroves and coral reefs, and reduce marine pollution.
No 10 also says the G7 will endorse a "nature compact" this afternoon "to halt and reverse biodiversity loss by 2030 – including supporting the global target to conserve or protect at least 30 percent of land and 30 percent of ocean globally by the end of the decade".
To help make the case for the nature compact, the veteran broadcaster and environmentalist Sir David Attenborough will address the G7 today. In a comment released in advance, he said:



The natural world today is greatly diminished. That is undeniable. Our climate is warming fast. That is beyond doubt. Our societies and nations are unequal and that is sadly is plain to see

But the question science forces us to address specifically in 2021 is whether as a result of these intertwined facts we are on the verge of destabilising the entire planet?

If that is so, then the decisions we make this decade – in particular the decisions made by the most economically advanced nations – are the most important in human history.
This blog will be focusing just on the G7 today. The summit is due to wrap up at lunchtime, and at 2pm Boris Johnson is due to hold a press conference. Other leaders will be speaking to the media then too.
I try to monitor the comments below the line (BTL) but it is impossible to read them all. If you have a direct question, do include "Andrew" in it somewhere and I'm more likely to find it. I do try to answer questions, and if they are of general interest, I will post the question and reply above the line (ATL), although I can't promise to do this for everyone.
If you want to attract my attention quickly, it is probably better to use Twitter. I'm on @AndrewSparrow.
Alternatively, you can email me at andrew.sparrow@theguardian.com.
Updated