0
0
Read Time:
2 Minute, 11 Second
14:29
The Guardian's Jonathan Watts and Matthew Taylor report:
Joe Biden has joined scientists in blaming the climate crisis for a record-shattering heatwave in the western US and Canada that has been linked to dozens of deaths, buckled roads, blackouts and wildfires.
Officials in Canada have been shocked by the temperature rise, which hit 47.9C (118F) in Lytton, British Columbia, on Monday, smashing the national record set the previous day. The extended heatwave has also posed a health threat. In Vancouver, police said they responded to 25 sudden-death calls in a 24-hour period.
"Vancouver has never experienced heat like this, and sadly dozens of people are dying because of it," Sgt Steve Addison said in a news release. "Our officers are stretched thin, but we're still doing everything we can to keep people safe."
Referring to the heatwave in the north-west, the US president said the US needed stronger infrastructure to prepare for extreme weather.
"Anybody ever believe you'd turn on the news and see it's 116 degrees in Portland, Oregon? 116 degrees," Biden said in a barbed criticism of climate deniers. "But don't worry – there is no global warming because it's just a figment of our imaginations."
14:29
Biden to meet with west coast governors amid historic heat wave
Greetings from Washington, live blog readers.
Joe Biden and Kamala Harris will meet with governors from west coast states today, as the region battles a historic heat wave that has set record-high temperatures in many cities.
The governors attending are Kate Brown of Oregon, Gavin Newsom of California, Mark Gordon of Wyoming, Michelle Lujan Grisham of New Mexico, Spencer Cox of Utah, Steve Sisolak of Nevada, Jay Inslee of Washington and Jared Polis of Colorado. The group includes Democrats and Republicans.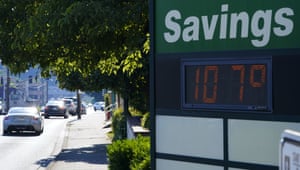 According to the White House, the meeting will focus on the "devastating intersection of drought, heat, and wildfires in the Western United States, and strengthening prevention, preparedness and response efforts for this wildfire season".
Experts have warned that the devastating heat wave is just a sign of things to come if the world does not curb greenhouse gas emissions.
"This is the beginning of a permanent emergency," Inslee told MSNBC yesterday. "We have to tackle the source of this problem, which is climate change."
The blog will have more details on the meeting coming up, so stay tuned.